What is BLDC PUMP?
BLDC stands for Brushless Direct Current. So BLDC PUMP is also called brushless DC pump. It is an advanced new type small electric water pump. Click to learn more.
Do you offer free samples?
We DO NOT provide the free sample but the sample cost will be returned when you place a formal order. If you do need a free sample for testing, please contact our salespeople to apply from the company.
How to choose the right water pump?
This question is not easy to answer. You need to consider a lot of factors such as operation voltage, the needs of flow rate and head, etc. Read this article to learn more. You can also contact us for assistance.
Do you provide any Custom Service?
Can you produce pumps according to our drawings?
Yes, we can. We have the mold factory and can produce according to your design easy.
What is the cost of the mold?
The cost depends on the size and complexity of the pump. But the fee will be returned when your order reaches a certain amount. Contact us to tell your detail requirements.
If you guys accept credit card?
Unfortunately, we DO NOT accept credit card payments temporarily. Telegraphic Transfer (T/T) is our most common form of payment. You can also choose Paypal for the small orders.
Can I pay with Paypal?
Yes, you can. But please note that Paypal's handling fee is charged on a pro-rata basis and is very high. Therefore, you need to bear the handling fee incurred by the exchange.
Do you have it in stock?
I am not sure. Our pumps are available in hundreds of models, and it is not possible to stock each model. Please contact our salespeople to confirm.
Can you provide me the design drawings?
We can provide you the 2D drawing files. For 3D drawing files, you need to provide detailed instruction, and we will review and decide whether to offer it.
Can you provide the circuit control design drawings?
We DO NOT provide the circuit control design drawings for any reason. But we can design a particular circuit to suit your system requirements.
Could the pump suck water from deep well?
No, it couldn't. All of our pumps are not self-priming.
What is the lead time?
For general order, the lead time is 5~10 working days after your payment.
Which shipping company you are using?
We usually use DHL to ship, but we can also adjust it according to your requirements.
Can I use my own DHL account?
We could not use your DHL/FedEx account. Because for the pump category, they need many safety checking by the third party every shipment. It takes a lot of money and time.
What are the requirements for the pump's power supply?
Any stable DC power supply is OK. They include the AC-DC adapter, DC power source from types of equipment, battery, solar panel, etc.
Can a 12v pump work at 15v voltage? Can a 24v pump work at 30v voltage?
We suggest you use the pump under its rated voltage. Usually, a 12v pump can typically work between 5v~13v; a 24v pump can typically work between 5v~26v. If the voltage exceeds this range, we can not guarantee its lifespan.
However, we can customize the operation voltage according to your needs. Contact us to learn details.
Can I use a car battery as the power supply for the pump?
Please note that many batteries will exceed their rated voltage when fully charged. Make sure the voltage does not exceed 13v for a 12v pump and make sure the voltage does not exceed 26v for a 24v pump. If you are not sure, I suggest you must use a multimeter to measure when the battery was fully charged.
Is the pump materials compatible with ozonated water?
The material of the pump impeller is POM which's material compatibility with Ozone is C. Fair — Moderate Effect. We don't recommend you use it for continuous running. For long-term operation, we suggest you change the impeller material to PC; it will be perfect with Ozone water. Contact us to get more details.
Could you please provide the material list of the main parts of the pump?
The housing is PA66.
The impeller is POM.
The shaft is ceramics.
Why is your price higher than others?
You Get What You Pay For.
The competition in the Chinese manufacturing market is very intense. Some factories specialize in copying other people's products. But they don't have the core technology, just make the same appearance. And most of the time, they used inferior raw materials and cut corners.
Don't be cheated by price; there are a lot of things more important than it, we will give you products with high cost-effective.
What is the function of the control box?
The circuit board is in the control box for starting the pump. It is a part of the pump, could not be separated from the pump.
Is your pump waterproof? Can it be used submersible?
Most of our pumps are 100% waterproof and perfect for submersible using.
What are the consequences of overvoltage use?
Sometimes the pump will burn out immediately. And sometimes maybe not but its lifetime will be greatly shortened.
How to know the positive and negative poles of the power cord?
Positive (+) is the red wire or the center of the DC connector;
Negative (-) is the black wire or the around of the DC connector.
How can we be your distributor?
We have some requirements for your orders per year, and also depends on whether your region or country already has our distributors.
Can the pump run without water?
Dry running (without water) is forbidden. Some models come with the protection function, the pump will stop running when it is short of water. Contact us for more information.
Why is the impeller quickly damaged? Is it a quality issue?
1. Broken – usually caused by solid impurities entering the pump. You must do an excellent job of filtering if the liquid is not clean.
2. Melted or deformed – usually caused by inadequate heat dissipation. Please ensure there is always water in the pump.
Can we add some custom control functions?
Yes, this is not difficult, our electronic engineers will help you to achieve it. Contact our salespeople and tell us what you need.
How to install the pump?
Our pumps are not self-priming. You must install it under the water level. You can fix it submersible or outside of the water. Please refer to the installation diagram below.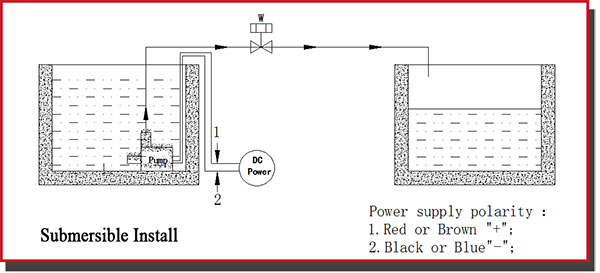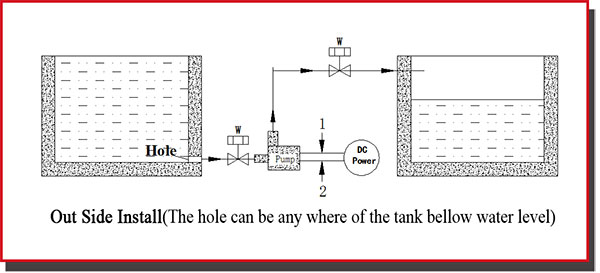 Is there any requirement for the medium?
Ensure medium is clean, prohibit impurities into the pump. It will damage the impeller and permanent magnet rotor. Some device such as filter will be useful.
FAQs DIDNT SOLVE YOUR PROBLEM?
Submit your question to us through the form below