We disigned this unique DC timer to be used in many field such as Green Walls, Plants timed irrigation, and so on.
The DC timer is small and compact, and it is very easy to be used. Compare to AC timer, it has a wider range of applications, it could be used in any kind of DC power source, such as adapter, battery, DC source from equipment, solar panel system and others.
DC Timer input power range
Working voltage: 8-30 volt, working current: 0-5 ampere
DC Timer setting instructions
There are two buttons and three digital tubes in total.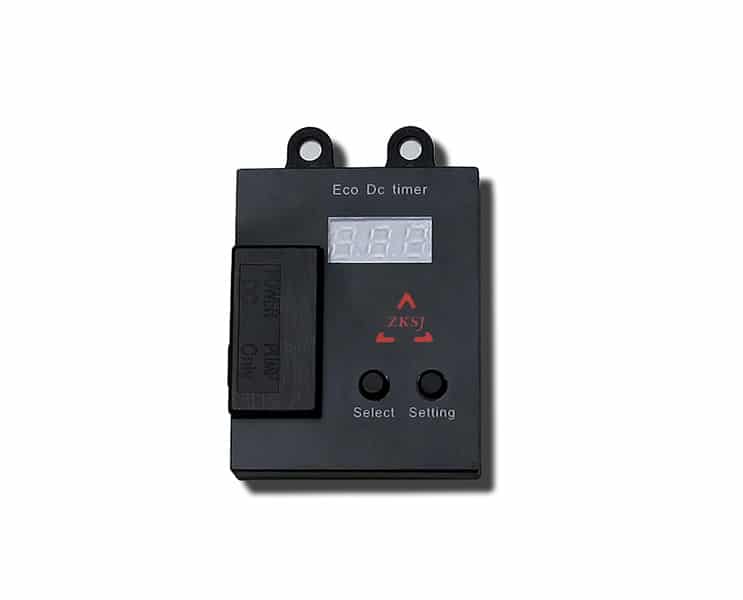 Left digital tube indicate cycle days, you can set 1-9 days.
Center digital tube indicate working times during each loop, you can set 1-9 times during one loop. They will be averaged during one loop.
Right digital tube indicate working minutes in each time. You can set 1-9 minutes in each time.
Press "Select" button to choose digital tube, press "Setting" button to set exact content 1-9.
For example, we want the pump work 8 times during 9 days, and working 7 minutes every time. We should follow the instructions below:
Press "Select" button once, left digital tube flash, press "Setting" button to "9"
Press "Select" button twice, center digital tube flash, press "Setting" button to "8"
Press "Select" button three times, right digital tube flash, press "Setting" button to "7"
All done! Final display as following: